Innovative and Unique— Not Your Standard I/O
Data-Linc's wireless "CIX" Communication Interface Extender System (900 MHz and 2.4 GHz versions) has a companion.... the PlantLinc Lower Range modem family includes 2.4 and 900MHz protocol to I/O and I/O to I/O modems that feature lower power, lower range at a lower price along with compatibility with the respective CIX versions. Like the long-range CIX, the PLR offers a cost effective, easy-to-implement, industrial grade I/O extender that also directly connects a PLC's communication ports (serial or Ethernet) to I/O points without complicated PLC programming or proprietary software.
With a ratio of up to 16 Remotes for each Master, a full network provides a total of 384 I/O points. Each CIX6x30 or PLR6x30 Remote provides 8 discrete inputs, 8 discrete outputs, four analog inputs and four analog outputs (12 bit analog resolution). Both CIX and PLR are compatible with LincView OPC, Data-Linc's powerful, proprietary RF network diagnostic and management software.
Read the press release and see the data sheet. Now PlantLinc Family also provides the same technology and major features of the CIX, but at a lower power, lower range and lower price. For more information regarding how this or any of our other products can provide solutions for your industrial or instrumentation projects, call 425-882-2206 or email (for I/O projects not requiring serial or Ethernet interface, see the I/O Remote units for the CIX and the PLR may be configured as Masters, or for more information about these and other robust industrial grade data communication products. All Data-Linc Group modems offer field proven performance and come with free industrial grade support.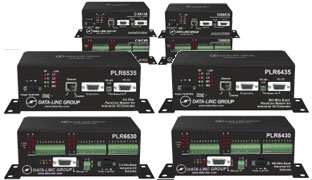 PlantLinc I/O System joins the long-range CIX I/O Sytems to fill the short and medium range gap for I/O applications in both the 900MHz and 2.4GHz Bands.