Remote access is used to connect to the SCRWF plant, which feeds information from all the major sites. The software permits authorized technicians and plant managers to dial in from any location and have full network access.
The typical pump station has 3 analog inputs, 16 digital inputs and 8 digital outputs. Two pumps generally alternate control. The analog inputs are used to monitor wet well level and the flow back to the plant. The digital inputs provide the status of the equipment, alarm condition, and pump operation. During storm conditions, the digital outputs disable pumps or start them as required. They can also be used to enable local manual control.
The radios are housed in locked freestanding NEMA-4 type enclosures. These enclosures sit above the well. 12 inch, 3dB gain, omni-directional antennas are an average of 15 feet above ground. 6dB gain, YAGI directional antennas are used at a few locations where there are foliage obstructions such as trees. All of the four main plants have 9dB gain, omni antennas attached. Wolfe Neck has an antenna 100 feet above the plant, Inland Bay 320 feet, Georgetown 180 feet, and SCRWF 250 feet.
The main plant, SCRWF, monitors all of the information from the other three submaster sites and is the only one of the four main plants that allows remote access to all of the sites. ProWORX NxTTM is the PLC programming software that provides remote PLC program viewing, program changes and system troubleshooting over the wireless network.
At each main tower there is one Modicon QuantumTM PLC. SCRWF has two HMI stations and each of the three other plants have one HMI station that run through a router at Georgetown. Each pump station has a Modicon MomentumTM PLC. The scan times for a master PLC to read and write to station is about 2 seconds. VHF takes about 30 or 40 seconds a station. The illustration below represents an overview of the pump station to sub-master PLC network architecture.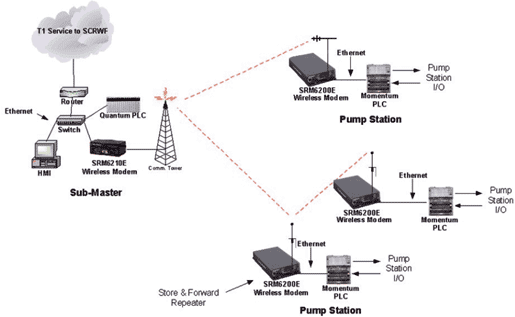 Sussex County is planning to add five new remotes in the next several months. The expansion will continue into the future utilizing their upgraded SCADA system architecture. Steve Hudson is very pleased with the system, as it has met all of Sussex County's expectations for performance and reliability.
(Download a print quality 4 page pdf version (1MB) of this paper.)
About Trijay Systems
TRIJAY Systems, Inc. is an independent systems integrator specializing in the furnishing of process control systems which encompass industrial instrumentation, PLC packages, and PC
based control room architectures. UL listed control panel requirements are filled through in-house manufacturing capabilities and field services cover installation, start-up training, and extended maintenance. PLC and computer services cover all recognized brands and include extended warranties on both hardware and software products.
Support services for third party instrument manufacturer products allows for the furnishing of such systems without compromising performance. With a reputation proven by twenty years of on-time and on-budget contract completions, TRIJAY serves primarily the eastern seaboard of the United States. Targeted industries are mainly environmental and pollution control in nature and they are served either directly or through prime contractors. For more information, visit Trijay or call (215) 997-5833.
About United Electric Supply
United Electric Supply is a nationally recognized full line electrical distributor generating $130 million in sales from 10 mid-Atlantic locations. The Municipal Applications Group at United focuses on providing comprehensive power distribution, control, telemetry, data acquisition, and reporting solutions for municipal water and wastewater applications. United Electric Supply partners with municipalities, system integrators, and engineering firms to facilitate successful design, implementation, and maintenance of integrated systems founded on best in class products from a variety of manufacturers. For more information, visit United Electric or call 302-324-3246.
About Data-Linc Group
Data-Linc Group modems are designed for highly reliable performance in challenging industrial environments. Data-Linc's communication solutions include license-free wireless Ethernet and serial radio, leased line, dial-up, dedicated wire, power line and fiber optic modems. Data-Linc has over 14 years industrial communications experience and provides no-charge consultation assistance during project design. All Data-Linc products promise field proven performance backed by industrial grade support from experts with hands-on knowledge of the major manufacturers'' PLC and automation equipment. Contact Data-Linc for a no-obligation consultation regrading your industrial network needs.
Also see other Industrial Applications.