---
---

Visit Schneider Electric
Schneider Collaborative Automation Program:
Gold Technology Partner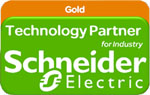 For quality products and service to the global market, Data-Linc has been warded top Gold level recognition as a Technology Partner for Schneider Electric
As a member of Schneider Collaborative Automation Partner Program supporting Modicon, Square D and Telemecanique PLCs, PowerLogic and other equipment, Data-Linc Group manufactures the broadest line of industrial grade modems in the world, for wireless, dial-up/leased line and FSK wire data transmission. Data-Linc has focused its efforts toward insuring that the transmission of data between PLCs, RTUs, PCs and other automation equipment achieves the highest possible level of accuracy, reliability and integrity.
Total interoperability and compatibility with Schneider Electric equipment assures simple connectivity as well as assurance of avoiding potential operational problems. Serial data is transmitted by RS-232, 422, or 485 cabling, using Modbus ASCII and RTU protocols (Ethernet radio modems are TCP/IP 10Base-T). Modems and cables are supplied pre-configured by the factory for simple installation (no modem field settings, programming or adapters). Data-Linc's unique protocol to I/O solution that requires no complex programming nor extra protocol conversion equipment for long range and medium range installations (See Products > Wireless).
Principle Features and Benefits
Data-Linc stand-alone modems are housed in metal enclosures with mounting flanges providing physical environment protection and EMI/RFI immunity.

Data-Linc Modems and connecting cables are factory configured for each application, assuring a trouble-free installation (no modem field settings, programming or adapters required).
Wireless Full Duplex, uncompressed data rates to 115.2 Kbaud. Distance to 25+ miles. Operating temperatures from -40°C to +75°C (-40°F to 167°F).

Data-Linc wire and wireless modems support point-to-point, multi-point and multi-tier/multi-drop applications. Repeaters can be stand-alone without requiring back-to-back units.

Data-Linc employs only the most robust communications technologies to assure exceptional data communications reliability and integrity for data acquisition, control and SCADA applications:

Frequency hopping spread spectrum wireless technology (902-928 MHz and 2.4-2.4835 GHz license free bands available) has exceptional immunity to interference and data transmission problems.

CIX & PLR protocol to I/O products go beyond standard I/O devices. The Ethernet interface supports Modbus TCP/IP and the serial interface supports Modbus RTU protocols. The Master units communicate wirelessly with up to 16 Remote I/O units to form a single wireless I/O network for seamless protocol integration into your equipment as documented by the equipment manufacturer to utilize Data-Linc's point addressing model.

OFDM technology for 54 Mbps speeds for the FLC910E (900 MHz) and FLC830E (2.4 GHz) members of the FastLincTM Family

Frequency Shift Key (FSK) technology provides a high level of immunity to data transmission problems, providing the highest possible data reliability over any two conductor wire, shielded or unshielded, twisted or untwisted (No ground loop or shifting ground plane problems as well as immunity to EMI, noise and surge).
Data-Linc also offers wire technology products... when line-of-sight is not possible, no need to find another vendor. Our wire modems transmit data across slip rings, sliding contacts, rolling wheels, shoes, brushes and conductor bars as well as phone and private leased lines.

DLM (dial-up/leased line) and LLM (leased line) modems transfer data via phone and private lines... from -40°C to +85°C (-40°F to +185°F)

Data-Linc's MDL500 Series of FSK wire modems can even superimpose data on in-plant facility wiring, including AC/DC power lines in many cases, PBX telephone wires and instrument loop lines, simultaneously without interfering with the current, voice or instrumentation signals being transmitted. This eliminates the time and expense of data cable installation.
Data-Linc utilizes the most advanced Frequency Hopping Spread Spectrum(FHSS), DSSS (Direct Sequence Spread Spectrum) and OFDM (Orthogonal Frequency Division Multiplexing) technologies supporting serial, Ethernet, I/O and protocol to I/O for wireless data transmission (no site license required) as well as, specialized Frequency Shift Key (FSK) techniques for data communications on any two conductor wire. Data-Linc provides the ultimate in data reliability and integrity while also achieving superior performance, user friendly ease of installation and insurance against potential operational problems.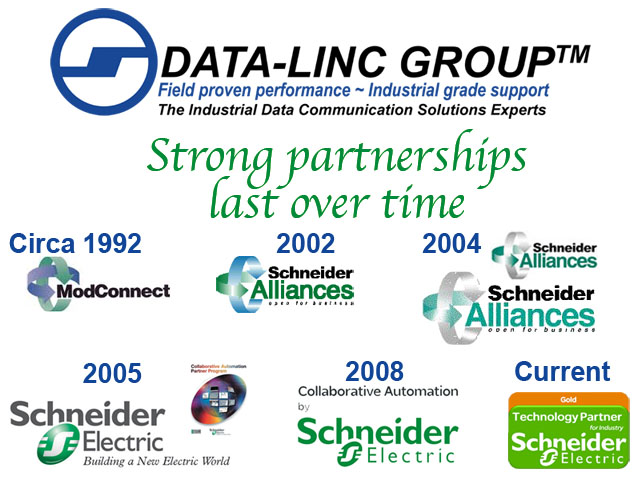 The Schematics Section shows Data-Linc Modems interfacing with Schneider/Modicon and Square D Automation equipment.
Data-Linc's document entitled Industrial Data Communication Applications Interfacing With Schneider Equipment is available as a pdf download (368K- requires Adobe Acrobat Reader to open) or in hard copy by contacting Data-Linc at (425)882-2206 or via email marketing@data-linc.com