GE Fanuc Application Notes
Data-Linc and GE Fanuc provide steel mill coke pushers robust wireless communication between Versa Max PLC and Cimplicity Server Software on the Master Control PC
Using Data-Linc 2.4 GHz wireless Ethernet modems for data transfer, a GE Fanuc Versa Max PLC and GE Fanuc's IC646TDV300 Cimplicity Server Software on the Master Control PC provide data collection, protocol conversion and program transferring in the presence of dust, vibration, corrosive air and high temperature. The system allows simultaneous data monitoring, screen display, alarm, real-time trend display and data archiving for the moving pushers. (See diagram.)
---
Data-Linc Ethernet radio modems team with GE Fanuc PLCs for shipbuilding HSLT crane control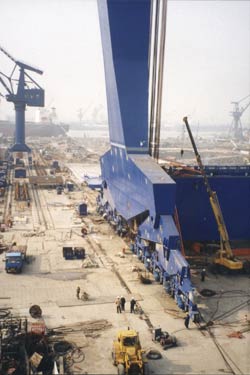 Data-Linc wireless Ethernet modems provide reliable, cost-effective data communication for a large shipbuilding application. Data needed to be transferred between two central monitoring/control stations and the new-concept HSLT (Hydraulic Synchronizing Lifting Technique) crane designed to handle oversized components. Engineers in China installed four wireless Ethernet modems to communicate between the HSLT crane and central control in two point-to-point systems.

The greatest challenge was to send and receive data in spite of two types of high noise interference:
The electric sparking produced by high voltage power supply, motors and welding machines
The interference that results when RF transmissions occur through multiple paths in close proximity
In addition to overcoming the inherent and imposed interference, the installation required error-free continuous operation 24 hours a day for five successive days at a time. Only the highest performance devices with superior reliability in data communication could be considered. Two GE Fanuc 90-70 PLCs, housed on the HSLT crane, were each connected to an SRM Ethernet radio modem (using directional antennas) with data communication occurring via two additional wireless Ethernet modems (using only simple omni directional antennas) attached to two monitor/control stations.
For this wireless installation, Data-Linc's Smart SpectrumTM technology modems were the top choice because of their cost-effective proven reliability in the harshest industrial environments. Because Data-Linc modems have an RF frequency offset function and are factory configured, the devices were easy to install and are not only communicating flawlessly despite the high noise environment, but are also operating side-by-side without interfering with each other. (See Industries for other industrial applications. Read background information about the HSLT technology.)