High Speed Modem Family's First Release - HSM800E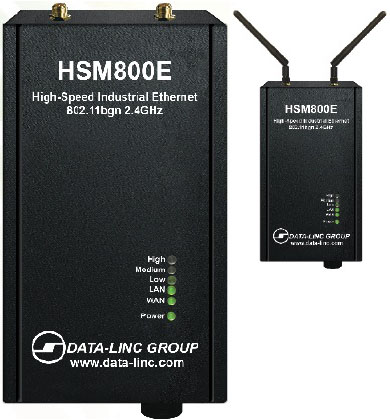 DATA-LINC is known for providing products with unique features that set it apart from other offerings. The introduction of the first member of High-Speed Modem Family, the 802.11b/g/n HSM800E, follows that trend.
The HSM800E is a high powered 802.11bgn radio using 2x2 MIMO technology that offers four operating modes to provide flexible network design with high speeds and exceptionally long ranger. Housed in a weatherproof IP65 rated enclosure with multiple mounting options, the HSM800E can easily be installed indoors or outdoors using CAT5 or CAT6 cable for its passive PoE (Power Over Ethernet) that delivers data and power over the same Ethernet cable.
Signal strength indicator LEDs along with connection and statistics information via the configuration web page make determining network health simple and straight forward.
Supporting A-MPDU, A-MSDU aggregation and other Ethernet networking features and protocols, the HSM800E integrates into industrial automation and instrumentation Ethernet networks seamlessly. Its maximum RF output power of 27dB (per transmitter for a 30dB combined transmitted power) and RF data rate up to300Mbps using 2x2 MIMO technology provides excellent indoor or outdoor coverage with minimal multipath fade.
The Data-Linc High Speed Modem comes in an IP55 rated weatherproof enclosure and with a passive PoE power connection, installations do not require long coax runs thus maximizing the transmitted power and received sensitivity.
For information regarding features, benefits, pricing or for a "Lunch and Learn" product overview webinar or to request information regarding hands-on technical training sessions on any, or all, of Data-Linc products, please contact DATA-LINC via phone 425-882-2206 Pacific Coast Time or .