Data-Linc Group's Industrial Data Communication News and Techniques
• Spring 2000, V1 #2
Wireless Ethernet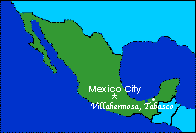 Modems Helping Control Air Pollution at Méxican Oil Concern

Recently, PEMEX (Exploration and Production) and the Universidad Autonóma de México began working on a project to protect the environment in the southern region of México. Ing. (Engineer) Mauricio González from DEC Control designed and implemented a flexible monitoring system that allows PEMEX to add future equipment to the existing network.
PEMEX has a commitment to protect and improve the environment to benefit the lives of the community and future generations. To complicate this commitment was the need to balance safety, health and environmental issues with PEMEX production, sales and quality assurance standards.
The Problem. The primary project objective was to design and execute the installation of an automated network to continuously monitor the quality of air in the region. PEMEX and the Universidad Autonoma de Mexico wanted to monitor the emissions of SO2, HCT, NOX, CO and H2S. Each station would be equipped with the latest technology of environmental monitoring devices and communications equipment. PEMEX would then have the information needed to initiate the proper steps to prevent and improve the conditions of the atmospheric field inside the areas being studied.
Identifying the Need. PEMEX, along with the University of México and DEC Control initiated a search for the best communication equipment (Ethernet radio) to satisfy their needs and sustain their specifications. Soon they learned that Data-Linc's SRM6200E Ethernet radio would be the best choice for this project.
Specifications for the communication equipment were as follows:
• Ethernet Protocol
• License-free 902-928 MHz
• Able to be mounted for ease of installation and diagnostics capability
• Capable of transmitting no less than 10 km
• Radios should have all hardware and software prior to installation
• Must be able to operate 24 hours a day, 7 days a week
• Operate in high temperatures (0° to 140°F; 0° to 60°C)
• Able to work in a very humid environment (0 to 95%)
• A friendly communication system.
The equipment in the network would consist of:
• Three analyzers each for: (SO2), (NOX), (HCT), (H2S) and (CO)
• Four Data-Linc Group Ethernet Radio Modems
• One omni directional antenna
• Three Yagi antennas
• Four industrial Compac PCI Ziatech PCs.
Implementation. Architecture for this application consisted of one Master SRM6200E and three SRM6200E Ethernet remotes. The Master location collects data from the remote locations and later, displays the data on the monitor. At the central location, a STD BUS Ziatech industrial computer with six serial ports communicates every ten minutes with the atmospheric
equipment via RS232. This PC deploys Visual Basic to collect and process data for final input into Microsoft Excel. Excel further processes the data and produces historical graphics. All data can be viewed in the PEMEX network via a hub which is connected to the central office in Villahermosa, Tabasco.
Conclusion. DEC Control's Ing. (Engineer) Mauricio González successfully created a monitoring system that will assist PEMEX in pollution control. This flexible network can easily accommodate additional monitoring equipment. Now different government organizations, such as SEDEZPA, PROFEPA, INE and others, will be able to access and integrate their own equipment into the PEMEX network.
"The Data-Linc radios perform flawlessly," reported González. "The system is 100%."
If you have a data communication problem or application that needs a solution, contact us today at (425) 882-2206.
FAQs
Can I do remote programming of my Allen-Bradley PLCs with your radio modems? Yes. It is possible to do remote programming with our radio modems.
I get an error when I try to program the DLM4000/4100 with my PC. Most PCs or laptops have an internal modem on one of the communication ports. Make sure that the internal modem is not on the same communication port.
I am using Data-Linc's RS422/485 module to communicate with my equipment, but cannot get communication established. Some manufacturers use different labeling on the 422.485 connectors. Try swapping the connections.
HyperTerminal will not allow me to program the SRM6000 modem. Make sure the data rate is 19200 and flow control is set to none. The PC cable required for configuration is a standard serial cable. Note that when making modifications to HyperTerminal that you will need to save and restart the session for the changes to take effect.
How do I keep all of the data on my Ethernet network from being sent RF with my SRM6200E modem? The SRM6200E modem has Mac addressing which generates a table of addresses. Only information being sent outside the wire network will be transmitted via RF. Information on the same side of the network the SRM6200E is on will not be sent RF.
When using HyperTerminal to communicate between the modems, I get garbage on the receiving PC. The baud rate or parity settings may be incorrect. Check these settings in HyperTerminal and on the modems. When making changes to HyperTerminal's settings you will need to save and restart the session.
Premiering Distributor
Partnership Program

PLC distributors, here is your chance to become a Data-Linc Group Solutions Partner. The Data-Linc Group Advantage program is a benefits and information driven effort created to assist premier resellers.
Becoming a Data-Linc Group Advantage member means you're committed to providing exceptional customer support through unique technical expertise and complete communication solutions based on Data-Linc Group products. As a Data-Linc Group Advantage member, you will see the following benefits:
Early access to important information
Marketing opportunities
Financial incentives
Exclusive sales tools
Technical expertise.
If you're looking to take your reseller location to the next level, the Data-Linc Group Advantage program could be exactly what you're after. Built around participant benefits, this certification program has what it takes to help you build your business and expand your profits. Begin building a better future in industrial data communications. A stronger relationship through Data-Linc Group's Advantage program is the next step.