Environmental Quality Monitoring Applications
PSI Selects Data-Linc to Help Ensure Oil Refinery's Ground Level Air Quality
Pipeline Systems Incorporated (PSI), a company that provides comprehensive services for pipeline system implementation, assisted a large oil refinery in upgrading their Ground Level Air Monitoring (GLM) system. The old proprietary system relied upon recurring-cost leased line communications and a "home grown" monitoring system.

PSI's new design incorporates commonly available communication and control components along with fiber optic lines as well as the existing PLCs. Four Data-Linc license-free SRM radio modems in Master, Remote and Remote/Repeater modes interfaced with Allen-Bradley SLC 5/04 programmable controllers for the data front end. At the other end, the PLC networks communicate into the plant over a gateway via a Honeywell TDC3000 DCS system for monitoring and control of presentation, logging and reporting data.

Data-Linc's SRM modems were ideal for this application. They not only eliminated the leased line fees and provided reliable, robust data communication, but also because all of Data-Linc's modems are factory preconfigured for each application, interfaced seamlessly with the legacy Honeywell and Allen-Bradley equipment thus making installation not only easy but even more cost effective.

For pipeline services see PSI on the web. For more information regarding your data communication needs, contact Data-Linc Group via 425-882-2206 or .
---
Air Quality Assured for America's Largest SCADA Installation
Wireless Ethernet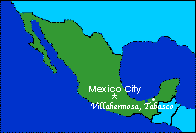 Modems Help Control
Air Pollution at Oil Operation in Mexico
PEMEX (Exploration and Production) and the Universidad Autonóma de México teamed up on a project to protect the environment in the southern region of México. PEMEX and the Universidad Autonoma de Mexico wanted to monitor the emissions of SO2, HCT, NOX, CO and H2S with the primary objective to design and install an automated network to continuously monitor the quality of air in the region. The monitoring system needed to be flexible to ensue the existing network could accommodate future equipment with the on-going objective to improve and prevent emissions and conditions of the atmospheric field being studied. Read more...
If you have a data communication problem or an application that needs a solution, contact us today at (425) 882-2206 - 7AM-5PM Pacific Coast Time or .